Portland Apartment Rentals - Oregon - bestportlandrentals.com
CALL US at (503) 274-4066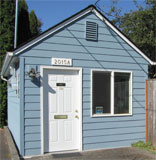 Hours:
Mon, Weds, Thurs: 9:30-1:30pm, Tues: 3:30-7:30pm, Sun: 9:30-1:30pm. Closed Friday and Saturday. Please always call for an appointment. We might be out showing apartments!

Our office is at Macleay Gardens Apartments at the corner of NW 29th and Vaughn (2015A NW 29th). There is a mail slot, so you can drop off paperwork any time (call us if you submit an application).

Google Maps click here.

Approaching by freeway: There is a Vaughn exit from the 405 North and I-5 (north & south) labeled "30 St. Helens - NW Industrial." From I-5, as you approach the Freemont Bridge (the biggest bridge in Portland), the exit will be on the right. From the 405 North, the exit is on the left. The exit forks, and you want the right fork that says VAUGHN. Exit straight onto Vaughn. Directions from Vaughn
Vaughn changes its name at 27th. Also, 29th & 30th are closed north of Wilson. These directions will help you:

Follow Vaughn up to 27th, which has a signal (Vaughn changes its name at 27th, so you have to zig zag here):
-Turn Left at the 27th Signal and go 1 Block to Upshur.
-Turn Right onto Upshur and go 3 blocks to the bottom of a hill to 29th (stop sign)
-Turn Right on 29th and go one block.
-On the far left corner is our parking lot.
-Just inside the parking lot is a small free-standing building. That's our rental office. It says 2015A over the door and "manager" on the door. You're there!

The map sites like maps.google.com and maps.yahoo.com are useful for getting you close, but they aren't so good about showing that 29th and 30th are blocked at Wilson (the "W" street which starts at 29th), to reduce through traffic in this residential neighborhood. Northwest Portland Alphabet Streets: If you are from out of town, you might not know that the streets in Northwest Portland are arranged alphabetically from Burnside (which defines the south of the neighborhood) to Wilson at the north end. If you watch the Simposons, most of these will ring a bell. They are (in order from South to North): Burnside Street, Couch (below 19th), Davis, Everett, Flanders, Glisan, Hoyt, Irving, Johnson, Kearney, Lovejoy, Marshall, Northrup, Overton, Pettygrove, Quimby, Raleigh, Savier, Thurman, Upshur, Vaughn, and Wilson. There are some "Places" and Interstate Freeways scattered here and there, but that's enough to get you started. (In general, streets run East-West and Avenues are numbered and run North-South). Burnside divides Northwest from Southwest Portland and the mighty Willamette River divides East Portland and West Portland. Most of the "alphabet" streets have a northeast counterpart on the other side of the river, so be sure to indicate NW in correspondence of for web mapping. Simlilarly the numbered avenues have NW and SW (or NE and SE) counterparts.